I know that I said I would do the episodes, but I'm currently without the internet, so I can't watch them. So I thuoght I'd give you all a review of a toy instead!
In the box comes the Lion Folding Zord, Dragon Folding Zord, Bear Folding Zord, Ape Folding Zord, Turtle Folding Zord, the Samurai Sword, and a DVD with the first two epiosodes of MMPR on.
I will do a short review of each of the individual zords first, then an overall review of the megazord.
Lion Folding Zord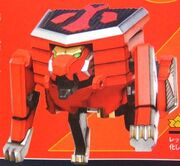 This zord is probably the best out of the bunch. Has good articulation for a simple zord, and the head is hidden quite well on his back. Looks badass.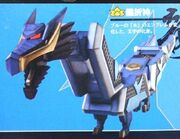 This is my least favourite. Has very limited articulation. The body just looks clunky and doesn't look very dragon-like or the picture above. The helmet for the Megazord is hidden away quite well. Also, when it is turned into the Megazords leg, it cannot stand on its own, needing the support of the rest of the Megazord, unlike the...
Bear Folding Zord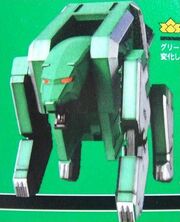 This zord has quite a charm, although it hasn't got much articulation, it still feels a really good zord. Like I previously mentioned, when it is a leg for the Megazord, this one can stand on its own in it's 'leg mode'.
Ape Folding Zord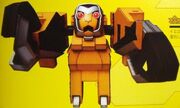 I have indifferent feelings about this zord, I want to like it, but ultimately it has only arm movement, but looks good.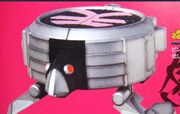 This is probably my second favourite. It's really cute despite it's low articulation, and is the only one of the zords that can go into the original kanji.
The Megazord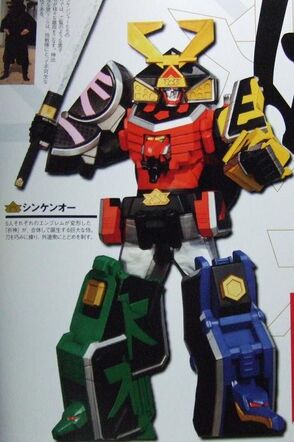 I think the Megazord is of good quality. It looks almost exactly like in the show, the sword stays in the hands well, and looks cool. My only problem is that the sword is made of the same material as the mega mode ranger weapons, meaning it can easily bend, but the overall quality of the toy is really good.
One more point; the zords (apart from turtle) can no longer turn into their kanji modes. This, for me, doesn't lower the overall quality of the toy because you don't see much of the kanji mode in the show, but if you did see more of it I think I would have a problem with it.
[Images courtesy of The Morphing Grid Wiki]